Crafting Kitchens You'll Love
Welcome to Build Source, Puyallup's trusted partner in creating culinary masterpieces. For homeowners in our community, the kitchen is more than just a place to prepare meals; it's a gathering spot, a place of memories, and a reflection of personal style. Build Source creates kitchens that are practical and enjoyable to be in. They understand the importance of this area in your home.
Why Choose Build Source for Kitchen Remodeling?
In Puyallup, your kitchen is the heart of your home, filled with stories and cherished memories. When considering a transformation for such a significant space, you deserve a partner who understands your locality just as intimately as you do.
Experience in Every Corner
For years, Build Source has been intricately woven into the fabric of Puyallup's community, establishing itself as a leader in kitchen remodeling.
But it's not just our longevity in the area that makes us stand out. Our rich tapestry of successful projects showcases a blend of innovation, craftsmanship, and an unwavering commitment to quality.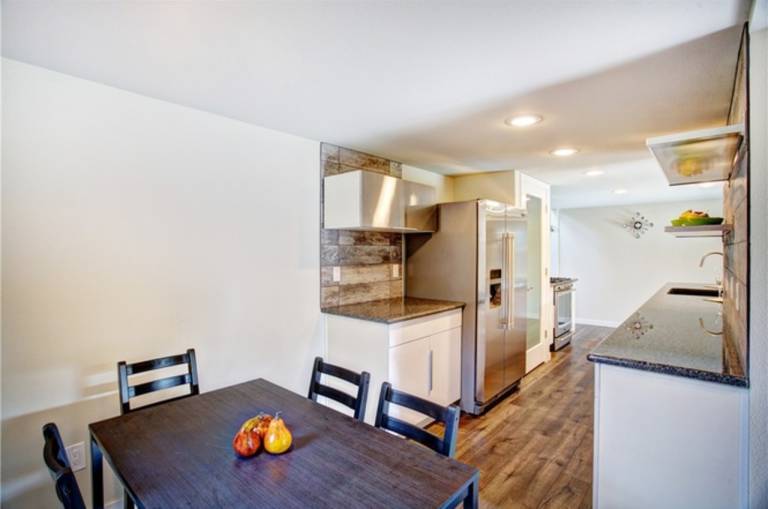 Familiarity with Puyallup Homes
Every home in Puyallup has its unique charm and quirks. Our familiarity with the local architecture, from vintage cottages to contemporary abodes, ensures a seamless integration of your new kitchen with the rest of your home.
Kitchen Remodeling Services Near Me
At Build Source, we understand that your kitchen is the beating heart of your home. As Puyallup's local experts in kitchen transformations, we proudly offer an array of services tailored to meet the diverse needs of homeowners in our community. Living in the neighborhood we serve grants us an intimate understanding of the local styles, preferences, and intricacies of homes just like yours.
Diverse Services for Every Dream
Complete Kitchen Overhauls:
From floor to ceiling, we've got you covered. Our comprehensive renovation ensures every corner of your kitchen meets your vision.
Cabinetry and Countertop Renewals:
Breathe new life into your space with our diverse range of materials and styles. From traditional wood finishes to modern quartz counters, the choices are endless.
Appliance Integrations: 
Upgrade to the latest and most efficient kitchen appliances, seamlessly integrated into your kitchen's design.
Island Installations and Extensions: Enhance functionality and aesthetics by adding or extending a kitchen island, tailored to your specific needs and space.
Lighting and Fixtures: 
Illuminate your culinary haven with the perfect lighting, from ambient to task-focused solutions.
The Convenience of Local Expertise
What sets Build Source apart is our proximity to you. Our location in Puyallup means we're always just around the corner, ready to assist at a moment's notice. This local touch ensures faster response times, personalized service, and an understanding of Puyallup's distinct charm.
Comprehensive Kitchen Renovation Near Me
In the serene neighborhoods of Puyallup, kitchens tell tales of family gatherings, festive feasts, and quiet morning coffees. At Build Source, we believe that every kitchen has the potential to narrate even richer stories.
A Deep Dive into Transformations
When we say comprehensive, we mean it. Our full-scale kitchen renovations encompass every facet of your culinary space. This includes:
Layout Reconfiguration:
Maximizing space utility while ensuring a harmonious flow.
Flooring Overhaul:
From hardwood to elegant tiling, we lay the foundation for your kitchen's new look.
Cabinet and Countertop Replacement:
Modernizing and optimizing storage and surface spaces with materials that speak to your style.
Backsplash and Wall Treatments:
Infusing character and vibrancy through intricate tiles or sophisticated wall finishes.
Plumbing and Electrical Updates:
Ensuring your kitchen is equipped with the latest, safest, and most efficient systems.
Initial Consultation: We kickstart your journey with a deep conversation, understanding your vision, needs, and the nuances of your space.
Design Drafting: Based on our discussions, our team curates design drafts, offering you a glimpse into the potential transformations.
Material Selection: From countertops to cabinetry, we guide you through choices that resonate with your style and functional needs.
Renovation Commencement: With approvals in place, our skilled team sets the wheels in motion, transforming your kitchen step by step.
Quality Checks: Throughout the process, regular checks ensure adherence to quality, design, and functionality benchmarks.
Final Walkthrough: Once the renovation is complete, we walk you through every corner, ensuring the finished product matches your vision.
Aftercare and Support: Our relationship doesn't end post-renovation. We remain available for any queries, ensuring your kitchen remains perfect for years to come.
At Build Source, we believe in clarity, and we understand the myriad of questions homeowners in Puyallup might have when considering a kitchen renovation. To streamline your decision-making process, we've collated some of the most frequently asked questions about kitchen remodeling.
Your kitchen is the canvas on which many of life's most cherished moments are painted. Why not make it as beautiful, functional, and reflective of your style as possible? With Build Source, your dream kitchen is within reach right here in Puyallup.